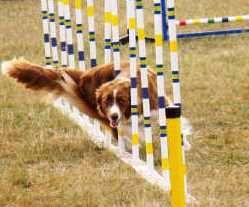 ATChC HiQ TRIBBLE, RPT, BDD, DDCh,
ExJ Bronze, ExS Bronze, ExSC Bronze, VBA, Bronze Award of Merit
2009 AAC NATIONAL CHAMPIONSHIPS 4th PLACE
2009 AAC NATIONAL CHAMPIONSHIP QUALIFIER
2009 AAC ONTARIO CHAMPIONSHIP STEELECHASE FINALIST 3rd PLACE
2009 AAC ONTARIO REGIONAL CHAMPIONSHIPS 7th PLACE
2008 AAC AGILITY NATIONAL CHAMPIONSHIPS 4th PLACE
2008 AAC ONTARIO REGIONAL CHAMPIONSHIPS 1st PLACE
2007 AAC NATIONAL CHAMPIONSHIP STEEPLECHASE FINALIST

Tribble is a fantastic dog. She has surpassed all of my expectations. She is very sweet natured and affectionate. She loves to cuddle on the couch and watch TV with the kids.  She will calmly wait at the sidelines for her turn to compete at agility or disc dog competitions. She is very focused and learns very quickly. She is an amazing agility dog.  She is an absolute pleasure to work and live with.  She is terrific with our kids and is a hit with kids at the OSPCA camp.
Tribble is also a CDDA Disc Dog Champion.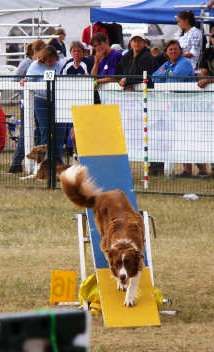 TRIBBLE

Tribble's littermates
ATChC HiQ Bogey and Craig Eagleson
Competed on the Canadian World Team at the
2008 WORLD AGILITY CHAMPIONSHIPS IN BELGIUM
and also won the 26" Division in the
2008 ONTARIO REGIONAL STEEPLECHASE CHAMPIONSHIP
and placed 3rd in the
2009 ONTARIO REGIONAL CHAMPIONSHIPS
Congratulations Craig and Bogey!

ATChC HiQ Fergus and Susan Knox
2009 ONTARIO REGIONAL CHAMPIONSHIPS - 9th
FERGUS WAS THE TOP BORDER COLLIE IN AAC AGILITY IN 2009 and Top AAC Gambling dog!
2010 Ontatio Regional Championships #1
2010 Canadian National Championships #4
Lifetime Achievement 2010
WooHoo Susan & Fergus!

Click here to see Tribble run Steeplechase at the Nationals!
Click here to see Tribble run Gamblers at the Regionals!

Tribble's Puppies
(Tribble is now retired from breeding)

Tibble X Tripp
Tribble X Tripp Dec. 2007

Tribble X Pico Nov. 2009

Retrieval Proficiency Test (RPT) CDDA
Basic Disc Dog (BDD) CDDA
Disc Dog Champion (DDCh) CDDA
Agility Trial Champion of Canada (ATChC)
Expert Steeplechase Bronze (ExSC Bronze)
Expert Standard Bronze (ExS Bronze)
Expert Jumpers Bronze (ExJ Bronze)
Bronze Award of Merit
Versatility Bronze Award (VBA)
Level Three Standard Agility (CPE3)
.