Meet Chloe!!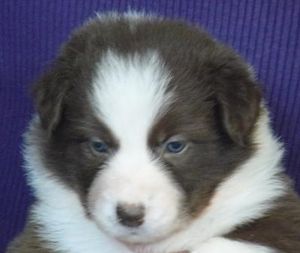 Chloe is Twizz's puppy born November 1 2008.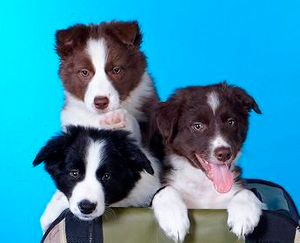 That's her on the top, tapping Rocket on the head!
Chloe has already done a professional photo shoot for the cover of a novel!  Chloe is very smart and outgoing.  She has a terrific build and is also beautiful!!  We just couldn't let her go completely!  We are thrilled that Francois agreed to a co-ownership on this special little girl.  We will be watching her closely and up-dating her page as she grows and matures.  Chloe has started puppy agility and can't wait until the snow goes so she can really show Francois what she can do!
Chloe is owned and loved by Francois and is co-owned by HiQ Border Collies.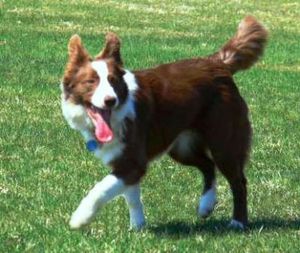 Chloe has matured into a terrific dog.  She loves the water (just like her mom!) and loves to play Frisbee.  She is super affectionate and athletic.
Chloe is CEA/CH - clear by parentage & OFA Hips - Excellent
Chloe litter with Cuill 2014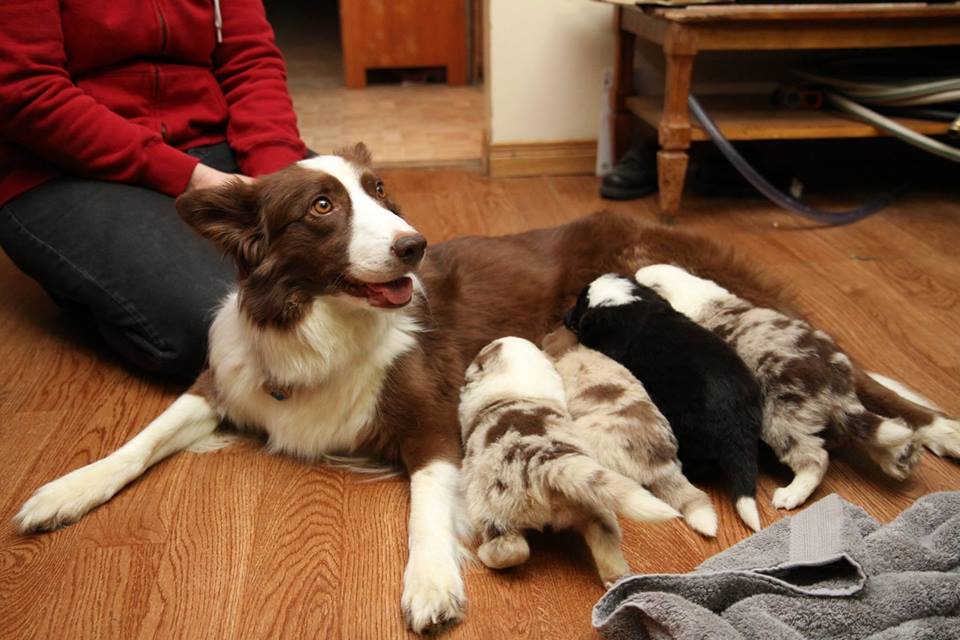 _________________________________________
Chloe & Cuill's Puppies Have Arrived
March 22, 2014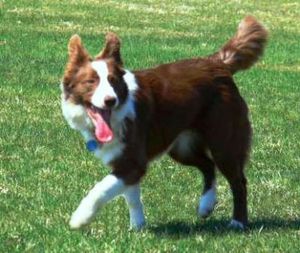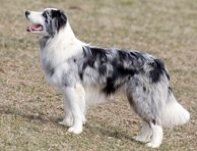 CHLOE   X   CUILL
ALL OF THESE PUPPIES ARE SPOKEN FOR
Chloe
is not just stunningly good looking, she is a terrific dog.  Talented and very affectionate. 
 Cuill is an outgoing friendly dog that is very confident.  He is very loyal and willing.  He competes in agility and flyball.  These puppies should be outgoing, friendly, athletic, loyal dogs.  They should also be absolutely gorgeous! These puppies will be registered with the Canadian Border Collie Association.  These puppies will also be eligible for registration with AKC and CKC (certification). 
Chloe - OFA Excellent Hips, CEA/CH - DNA Clear
Cuill -OVC Cert. Hips, TNS,CEA,CH - DNA Clear
 
Chloe had 4 beautiful puppies on March 22, 2014
2 red merle females
1 red merle male
1 black tri-coloured female

INTRODUCING CHLOE AND CUILL'S
Little Scoops - 3 days old
| | |
| --- | --- |
| Jamocha - "Jammies" | Rocky Road - "Roadi" |
| Chocolate Chip - "Chipper" | Butter Pecan - "Pecan" |
Chloe's Lil' Scoops at
4 Weeks
| | |
| --- | --- |
| JAMMIES | ROADI |
| CHIPPER | PECAN |
Chloe is CEA clear by birth (both parents are clear by Optigen)
Chloe's hips are OFA - Excellent