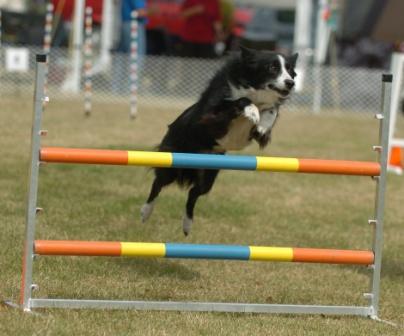 Q is an outstanding dog. She is very special to us. It is great to see her aging extremely gracefully.Pictured above at eleven years old she was still competing in top level agility competitions and beating dogs much younger than herself.  Including placing in several classes at the 2007 Ontario Regional Championships.  Q is very outgoing and loves everyone, but is also very loyal and always by my side.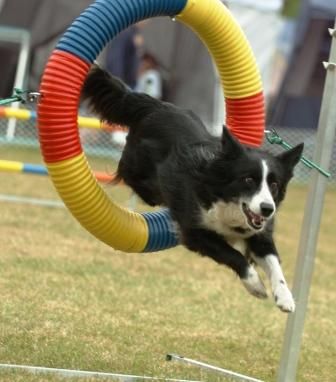 She is athletic and tireless.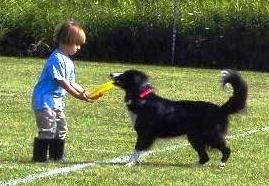 Our son started competing with Q in Disc Dog trials when he was only 4 years old. Q has been everywhere and done almost everything. Q has limitless potential and can do anything! Q's is still ranked number 5 in overall points in the Canadian Disc Dog Association despite being retired for some time now

Q is the mother of :
(click on their names for more information)

HiQ Bogey
2007 Canadian World Agility Team member
2008 AAC Ontario Regional Steeplechase Champion 

HiQ Tribble
2007 AAC National Agility Steeplechase Championships Finalist
2008 AAC Ontario Regional Agility Championships (1st place)
2008 AAC National Agility Championships (4th overall)
Disc Dog Champion
2009 AAC Ontario Regional Agility Championships (7th place)
2009 AAC Ontario Steeplechase Championships (3rd)
2009 AAC National Agility Championships (4th overall)

HiQ Zed in Red
Michigan State Disc Dog Champion
Ranked number 1 in overall points in the Canadian Disc Dog Association
2008 National Agility Championships Qualifier
60 weave pole challenge Champion
Flyball Champion

HiQ Fergus
AAC Silver Award of Merit
CDDA Champion Disc Dog
2009 Top AAC Border Collie in Canada
2010 AAC Ontario Regional Championships (1st place)
2010 AAC National Agility Championships (4th overall)
2010 AAC Steeplechase Championships (Finalist)

HiQ Zephyr
Disc Dog
Flyball Dog Champion
ADC-Agility Dog of Canada
AGDC-Advanced Game Dog of Canada
MJDC-Master Jumper Dog of Canada
MSCDC-Master Steeplechase Dog of Canada
JHD-Junior herding dog
HTAD1-S-Herding Trial Arena Dog on sheep
2nd at the AAC Ontario Regional Steeplechase Championship
AAC National Agility Champioships top 15 overall!
Click here to see his 1st place run at the Nationals
3rd in the 2007 Canada Cup.



and many more terrific agility, flyball, disc dog and other wonderful dog!!

Q's mother isTrekki and her father is Boscoe.
Although Q was retired from breeding a few years ago.  Q at 11 years old placed first in Jumpers at the  2007 Ontario Agility Regional Championships and qualified for the Agility National Championships. Q is now officially retired as of  July 2007.  She retires in the
top 5 dogs in Canada
overall from the Canadian Disc Dog Association.
Q accompanied us on our trip to the 2008 Nationals in Sussex New Brunswick.  She helped cheer on her daughter Tribble and her sons Zed, Fergus, Zephyr and Bogey.  We enjoyed walks on the beach in PEI and spending lots of time together.  I will always treasure these moments as this was to be our last trip together.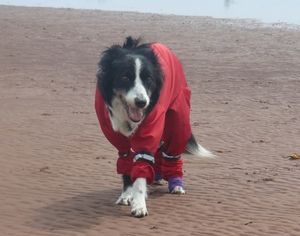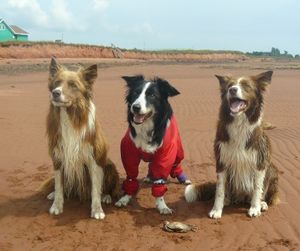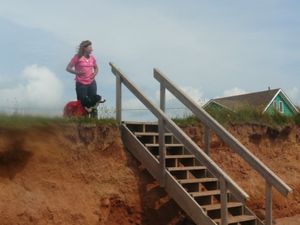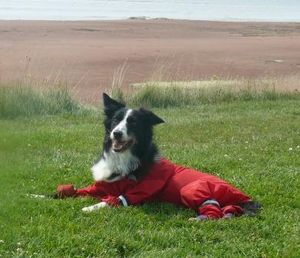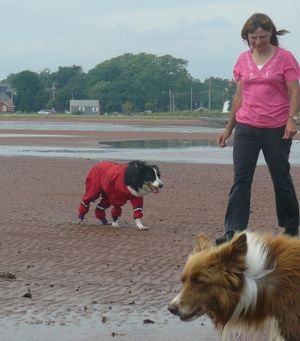 Only you, Q, know how special you were to me.  Letting go of you is one of the most difficult things I have had to do.  I don't think you ever had a grumpy day in your life.  Even when living became such a struggle at the end you greeted each day with such hope and enthusiasm. 
I love you and I miss you beyond words.
HiQ Omnipotent
Q
1995-2008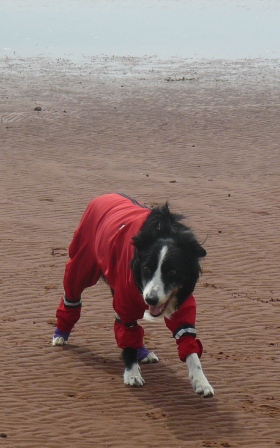 Q and her Offspring at the Ontario Regional A

Disc Dog Champion Flyball Champion Master Agility Dog OFA - Good CERF - Clear DNA - CEA - normal
Flyball Master, Tracking Dog, Companion Dog, Master Agility Dog, OFA-GOOD CERF, DNA-CEA/CH Clear,