To find out when we are expecting puppies click here

How We Raise Our Puppies

A great deal of thought has gone into the selection of the parents for each litter of puppies that we produce. Once we have selected the parents and know that puppies are on the way the real excitement starts! As soon as the puppies are born a lot goes into the care of each individual puppy. All of our puppies are born and raised in the house.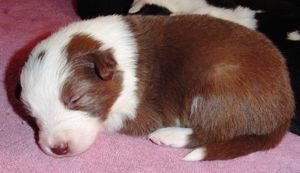 INDIE
One of Twizz's puppies born on New Year's Day
The puppies are handled frequently by adults, and children of different ages. Each puppy also goes through the early neurological stimulation program. This program has been proven to increase intelligence, health, trainability and the ability to handle stress for the puppy's entire life. Each puppy also receives a full physical exam and is carefully monitored throughout its development.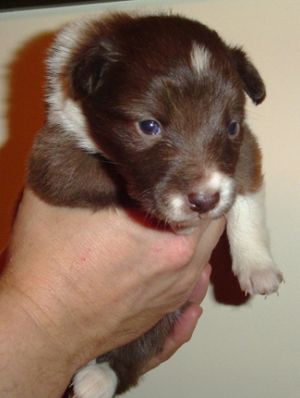 ROSEE
Each puppy gets lots of love attention and care from everyone in the family!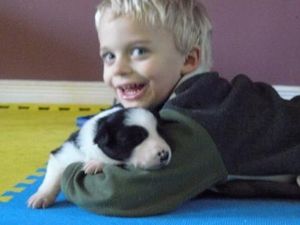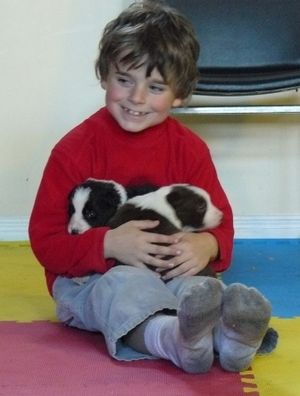 Each puppy gets lots of play time and stimulation.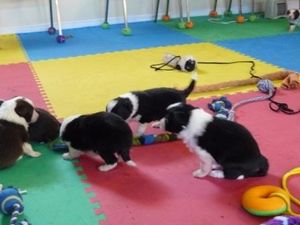 .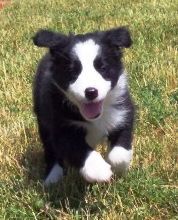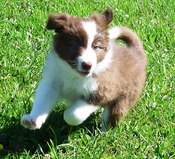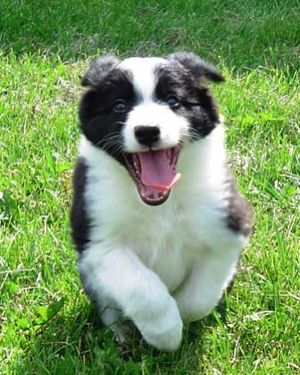 SK8ER          MAX          TURBO

All of our puppies are registered with the Canadian Border Collie Association (CBCA) and/or the American Kennel Club (AKC).   All of our puppies are fully guaranteed and are sold with a written health guarantee and contract.  Before going home each puppy is microchipped (with a registered microchip), has had a veterinary exam, and has been dewormed several times.  Each puppy goes home with an information package, six weeks of health insurance through PetSecure (in Canada only) and/or Trupanion (US and Canada), a weeks supply of food, and an identification tag.

All of the parents (both male and female) have been tested and certified through OFA clear of hip dysplasia, and with normal elbows. All have also had DNA testing, including full panel genetic testing through Embark or Optimal Selection.  Our dogs also have ophthalmic exams to check for genetic eye diseases.

A great deal of time and effort has gone into each puppy to ensure that your puppy has a great start and leaves HiQ with every advantage, ready to live up to its full potential. Once you have reserved a puppy you can visit your puppy as he grows and develops. If you are unable to visit you can track your puppy's growth and development through our website or Facebook group. We will have a page specifically dedicated to the puppies that will be updated periodically with pictures and information as the puppies grow and their personalities develop.