Trekki is and will always be a very special dog to us. She has always taken all of her jobs very seriously whether it was a silly game in a show or a serious obedience competition.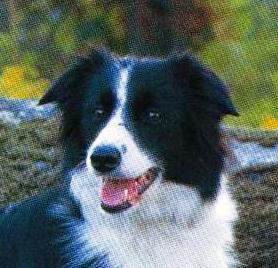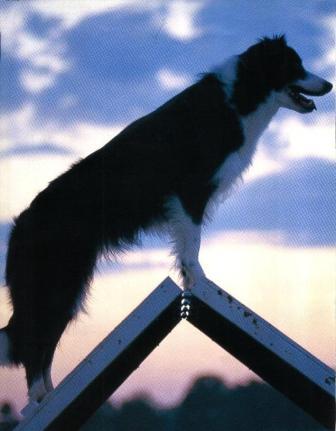 Trekki can always be counted on to do her best. She was the lead dog on our sled team and always the dog all the other looked up to.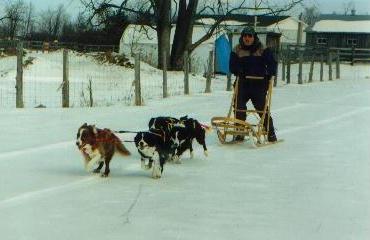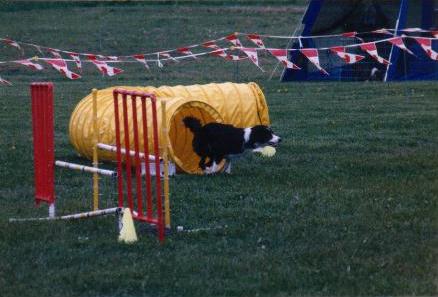 Trekki competed successfully in many different dog sports and earned titles in obedience, tracking, flyball, agility and disc dog.

Trekki is the Grande Dame of HiQ.  She is the base of our breeding program and most of our dogs pedigrees go back to her.  We could not have asked for a better dog.  Trekki is a Great, Great, Grandmother.  She is now 16 years old and has been officially retired for quite some time, but she still likes to run through the weave poles now and again!

We are sad to report that Trekki licked us on the nose for the last time on August 29th 2008.  Before she died she shared her life with not only us but her daughters (Q and Timer), Grandchildren (Tribble, Twizz, Zed, Puzzle), Great Grandchildren (Troo) and Great, Great Grandchild (Pilot).  Five generations of amazing dogs. 

I could never have asked for a better dog.  Trekki was everything I could ever want and more.  She always excelled at anything that she did and learned so fast!  She was as reliable as the sun coming up.  She was the queen of the house and all the other dogs respected her right to the very end.
 
We miss you Trekki
1992 - 2008
Tracking Dog (TD) CKC
Companion Dog (CD) CKC
Flyball Dog Master (FbDM) NAFA
Therapy Dog International (TDI) 
Novice Agility Dog Certificate (NADC)NADAC
Novice Jumper Dog Certificate (NJDC) NADAC
Masters Snooker Dog of Canada (MSDC) AAC
Advanced Agility Dog of Canada (AADC) AAC
Masters Jumper Dog Of Canada (MJDC) AAC
Retrieval Proficiency Test (RPT) CDDA

Trekki has also produced some of the best agility dogs including dogs with lifetime achievement awards, national placing, #2 dog in Canada in 2003, as well as many top flyball dogs, HIT obedience dogs and competitive sheepherding dogs.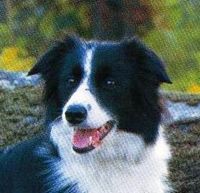 Flyball Master, Tracking Dog, Companion Dog, Master Agility Dog, OFA-GOOD CERF, DNA-CEA/CH Clear,