TALENT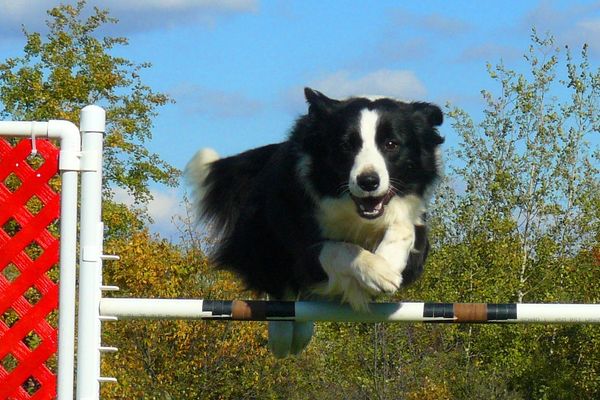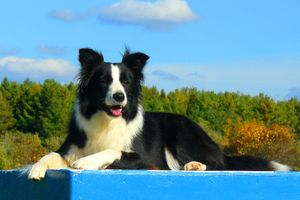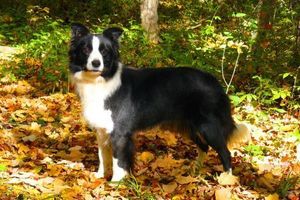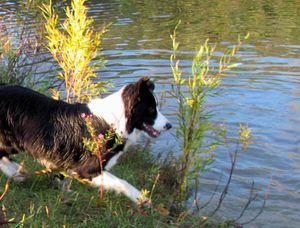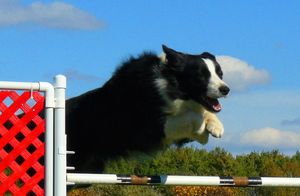 TALENT
"Pawcific Scarlet In The Hall W The Candlestick"

Talent came to us from Pawcific Border Collies in Washington State. Talent got off the plane and moved right in like she had lived here her whole life!  We feel very lucky to have her! Talent is a very happy go lucky dog, but don't let her fool you, she is also wickedly smart! She is a problem solver.  She can figure out just about any puzzle in record time and then do it again in only seconds.  Talent always seems to have a smile on her face and never seems to have a bad day.  Talent loves everyone and likes to cuddle.  A fast learner and super cute on top of that.  Talent has produced some fantastic dogs, that compete in agility, dock diving, rally, bike joring, flyball, barn hunts, and disc dog.

This beautiful little girl comes to us from Pawcific Kennels in Washington State

It was her father Blaze that first peeked my interest.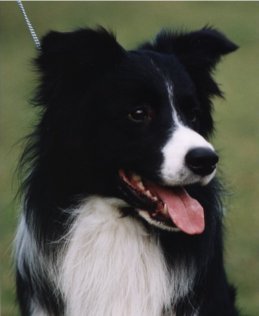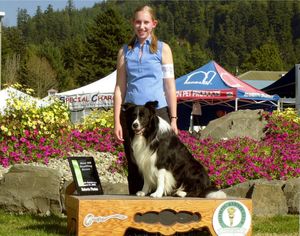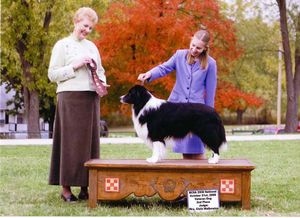 Blaze

Her father is Am CH Kellagem Kalkite PT, RN, ROM - "Blaze"  Blaze is a terrific dog.
 
Not only is he a top show dog, but he is also the type of versatile dog that I love.  After seeing some of Blaze's amazing offspring I contacted Kathy Fish at Pawcific.  I couldn't believe my luck when I found out that they had "Pawcific Scarlet In The Hall W The Candlestick."  A daughter of Blaze and Rime!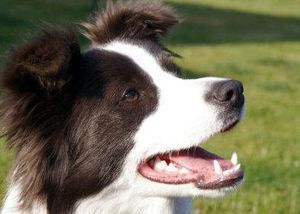 Rime
Her mother is CH Wildair Winter Light HSAs "Rime" who is also an outstanding dog!  Rime is a versatile dog who has earned herding titles and does tracking (on her spare time) when she is not out showing off her stuff and picking up accolades at specialty shows.  

"Talent" is exactly what I was looking for!  Sometimes you are just in the right place at the right time and something is meant to be! She definately has her dad's happy expression and she is not only built nicely and cute as a button, but she is spunky and outgoing.  After being a busy show puppy she is ready and looking for some serious work to do!  We are so pleased that Kathy has allowed us to have this great little girl!

Talent
OFA - Hips - Excellent, Elbows normal, Heart normal, Thyroid Normal
CEA normal by parentage

.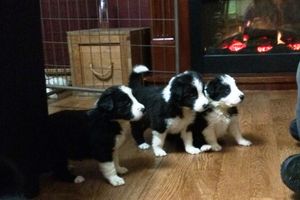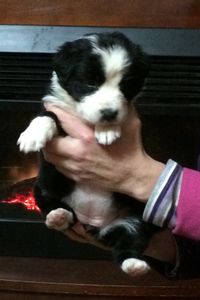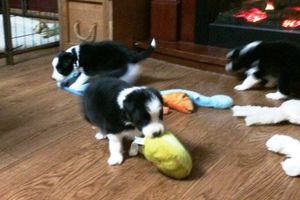 Talent X Ziggy Puppies at 4 weeks  (Jan 11, 2014)